Product Description
automatic change width light keel Roll Forming Machine
Light Keel Roll Forming Machine is widely used in building renovation, indoor decoration, roof and other places. The products of 0-80m/min Light Keel Roll Forming Machine has the advantages of light weight, high strength, water-proof, shock-proof, dust-proof, sound insulation, sound absorption, constant temperature and so on. At the same time, it has the advantages of short construction period, simple construction, and is deeply loved by users and design units.
Reference Profiles (Optional):

If you choose the CU type, we can make 1 machine for multi profiles, changing - sizes by the spacers,
Material:
Material Thickness: 0.3-0.8mm,
Applicable material: galvanized steel (GI), PPGI, with yield strength: 245-550Mpa,
Work Process:
Decoiler - Feeding Guide - Main Rolling System - Leveling Device - Hydraulic Servo Track Non Stop Cut - Collection,

Machine Components:
(1) Manual Decoiler: one set
Un-powered, Manually control steel col inner bore shrinkage and stop,
Max feeding width: 500mm,coil ID range 508±30mm
Capacity: Max 3 tons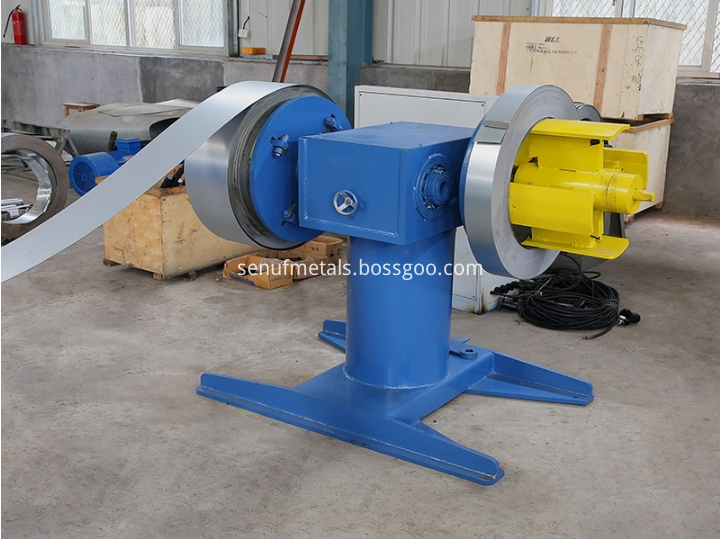 (2) Feeding Guide Device
A left and right guiding device at the main entrance of the machine. During work, Raw materials on both sides of the plate the enter into the machine by the left and right guiding device, make the raw materials and roll forming system to maintain the correct position. The guiding position can be adjusted by the manual screw mechanism, and the left and right can be adjusted independently.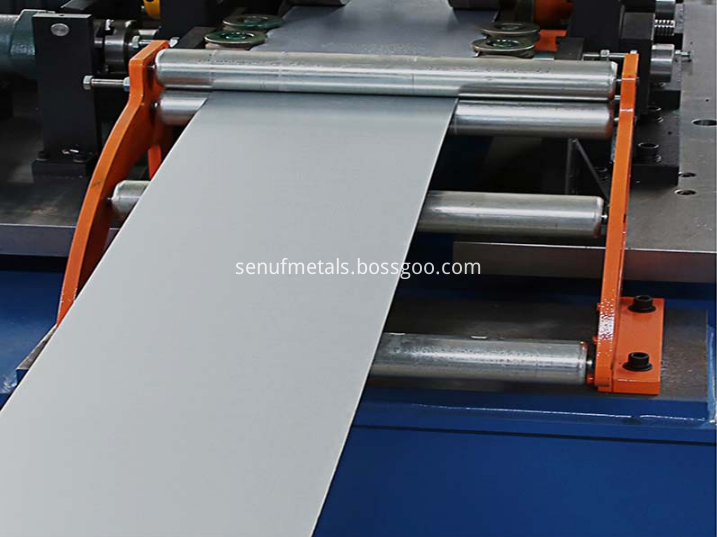 (3) Main Machine
With feeding material guide, body frame from 25mm A3 steel plate welding, milling / polishing. Memorial arch thickness: Q235 t18mm
Roller manufactured from Cr12 steel, CNC lathes, heat treatment, hard chrome coated with thickness 0.04mm, surface with mirror treatment (for longer life and anti-rust)
The roller axle adopts 40Cr, after quenching and tempering treatment. The lower roller group is rotated by the chain and otor, parts of the upper and lower rollers are driven by a gear, gear driving, about 12-steps to form,
Main motor (Polaroid brand)=5.5kw, Frequency speed control,
All the screw bolts with grade 8.8 (cheap factories use low grade 4.8) to ensure fix the machine structure tightly and long life during the machine long time running.
Real forming speed: 35-40m/min
(4)Leveling device and punching & post hydraulic non-stop cutting device
Leveing device will make the product more beautiful,
Punching and hydraulic cutting device is non-stop produce to improve the products speed,
The device can press LOGO on the Web,
Hydraulic motor: 4kw, Cutting pressure: 0-16Mpa,
Cutting tool material: Cr12Mov(=SKD11 with at least one million times of cutting life), heat treatment to HRC58-62 degree,
The cutting power is provided by the main engine independent hydraulic station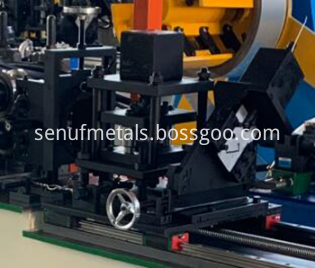 The independent hydraulic system with oil filter for the oil filtration, to ensure the circulated oil is clean and lengthen the life of hydraulic system.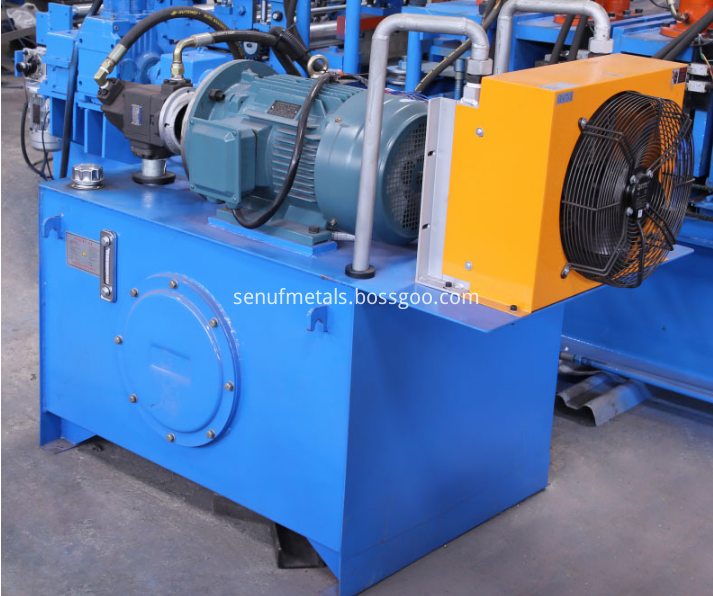 With servo Motor will make the cutting and product speed more stable and quick.
Servo motor power: 3kw

(5) PLC control system
Control the quantity and cutting length automatically,
Input the production data (production batch, pcs, length, etc.) on the touch screen,
It can finish the production automatically.
Combined with: PLC, Inverter, Touch Screen, Encoder, Etc.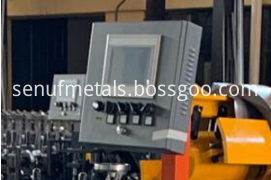 (6) Exit Rack
Un-powered, one unit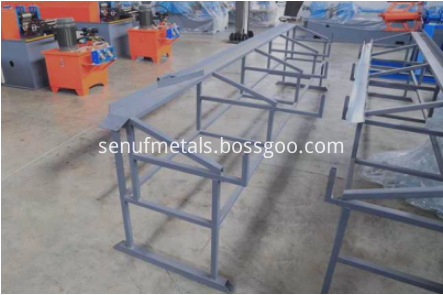 Contact info: WhtasApp: +8615716889085